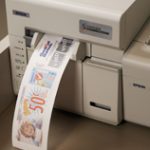 It is a dollar(s)-off coupon that you receive at checkout from certain stores. In the Nashville area, the main grocer which participates in Catalina promos is Kroger. A Catalina gets its name because of the machine it prints from. It is usually located right next to the machine that prints your receipt. They should be at all registers including customer service and self-checkout.
Do I have to sign up for anything?
Nope. The coupon will automatically print when you meet the promo requirements.
Catalinas are earned much like Register Rewards (Walgreens) or Extra Care Bucks (CVS). You have to buy a specific quantity of a certain product in order to trigger the coupon to print. If the promo requires you to purchase more than 1 item, you must purchase all of the items in one transaction.
How/When/Where do you redeem them?
Catalinas are to be used on your next order (OYNO) and can be used, similar to cash, to bring down your final balance. Typically, you would use a Catalina at the same store where you earned it, but it is clearly marked as a manufacturers coupon and essentially could be used anywhere (policy permitting). Personally, I have only tried using them at Kroger (where I earned them) or Publix since I know they take competitor coupons and it worked like a charm.
How do you know in advance about a Catalina deal?
I often check forums like
Hot Coupon World
or the
Mommy Snacks
blog to view current Catalina offers. Occasionally, the register will print an advertisement for an upcoming Catalina deal alerting you to the brand and quantity of items to purchase and what the promo dates are. Often you will find the Catalina promos advertised with a tag on the shelf near the participating product.
Buy any Pillsbury Refrigerated Baked Goods between 1/25/10 and 2/21/10

Buy 4 and get $2
Buy 5 and get $3
Buy 6 and get $4
Participating products:
Crescents, Cookies, Sweet Rolls, Grands Biscuits, Grands Cinnamon Rolls, Pie Crusts, Dinner Rolls, Loaves, Breadsticks or Pizza Crust.
What if my Catalina doesn't print?
First, make sure you have purchased the specific quantity, size and variety of the participating item(s). You can check with the Customer Service desk but most likely you will need to contact Catalina at
1-888-8COUPON (1-888-826-8766). They will need some information off your receipt and if all checks out, they will mail you the coupon.