Ok, I'm playing catchup today. I've been out enjoying the sun all week and I'm behind. I'm actually typing this from the laptop while sitting in a lawn chair in my front yard. :) Anyway.....
Here is a smörgåsbord of deals that I'm just gonna lump into one post. Enjoy!
Walgreens: A new 4-day ad started today. Personally, I didn't see anything glorious but you can
view the ad
and decide for yourself. I was perfectly happy with the 5 MONEY MAKER deals from the
regular weekly ad
that is still going on.
Walgreens: John Frieda Shampoo & Conditioners are on sale 3/$15 and you can earn a $5 RR WYB 3. Combine this with the $3.00 Q from 3/7 SS (need 3 total) to get them for as low as $0.34 each. This deal is valid through 4/24.

(Thanks
WildForWags
)
ALDI: They have strawberries for $0.99 this week (YAY!!) and pineapple too! Baby carrots are $0.49 and a 10-pound bag of potatoes is $1.49.

(Thanks
Faithful Provisions
)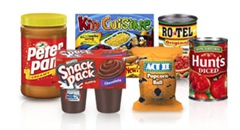 Con Agra is now doing a similar promo where you get a $25 Coupon Booklet WYB $10 in products. You have until 6/25 to send in the
mail-in rebate form
with your receipts.

(Thanks
Mommy Snacks
)
Get your coupons ready. Looks like Kmart will be doing Super Doubles April 4-10 where they double coupons $2.00 and under.
Go here
to see if your store is participating. Rumors are the limit is 5 per transaction.
Just a friendly reminder that today is the last day of the month so be sure to print any coupons you want before they reset tomorrow.
Ok, back to enjoying the sunshine for me! Happy Spring everyone.